Ready in under 30 minutes, this Small Batch Vegan Chili Non Carne is perfect for those nights when you crave a comforting bowl of chili but really don't have hours to spare… plus, it tastes so crazy good, you probably won't even be able to tell the difference. Or that it doesn't contain meat, for that matter!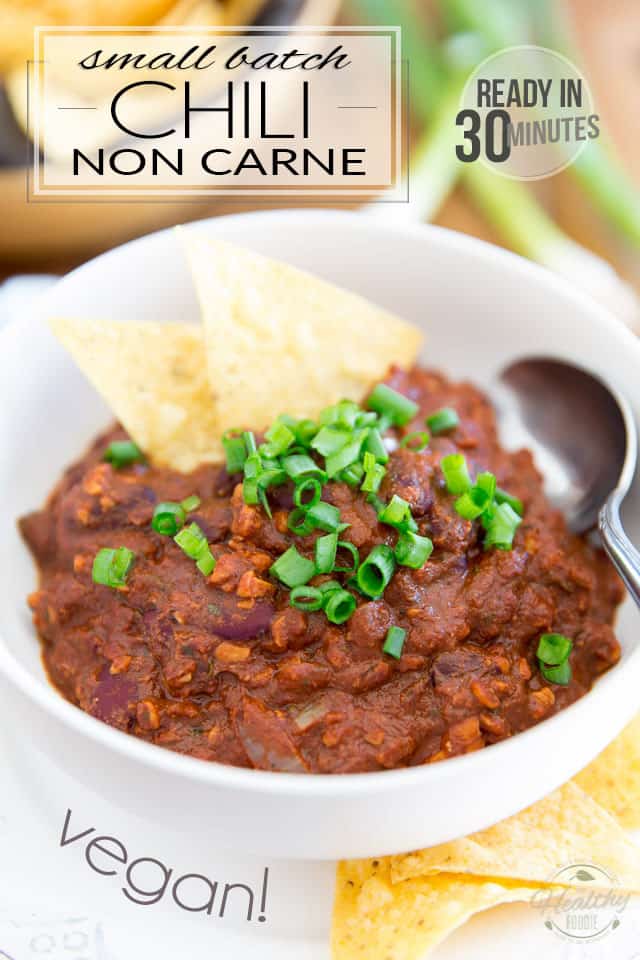 I think my boyfriend must've been Mexican in a previous life; he LOVES, but I mean LOVES everything Mexican. Especially Mexican food. Pretty much every week-end, I make him (well, I make US, to be honest…) a batch of Guacamole (minus the mayo, now) and a great big bowl of Pico de Gallo, which we enjoy with a couple of handfuls of corn tortillas. This is typical sacred Sunday afternoon snack/lunch for us. 
Unsurprisingly, Chili Con Carne ranks really high on his list of favorite meals. One night, shortly after we'd decided to go plant based, I'd asked what he would like to eat for supper and he said: Chili, please! 
Yikes! This was a big challenge for me, for 1- it was already pretty late so I had to whip up some kind of a quick meal and 2- I'd never made Vegan Chili con Carne before. 
But being the amazing woman that I am (insert hair flip here…) I decided to try my very best to grant his wish; this was my first time working with tempeh (actually I had only even heard about it before!) but honestly, the chili that night was a complete and utter success.  
This Chili Non Carne has become one of our regulars since. Because it's a small batch, it means we're not stuck eating nothing but chili for a week, and since it's ready in so little time, I can whip it up any time we feel like it. But the real kicker is that it's so tasty, I can't even think of a reason why I'd want to bother making the big batches anymore… 
I'm totally, completely sold on this recipe. And I hope you will be too! continue reading
The post Small Batch Vegan Chili Non Carne – Ready in 30 minutes! appeared first on The Healthy Foodie.