Made with nothing but wholesome ingredients, this Vegan Creamy Cheesy Broccoli and Carrot Soup is so filling and satisfying, so unbelievably thick and silky, you won't believe that it can actually be so crazy good for you!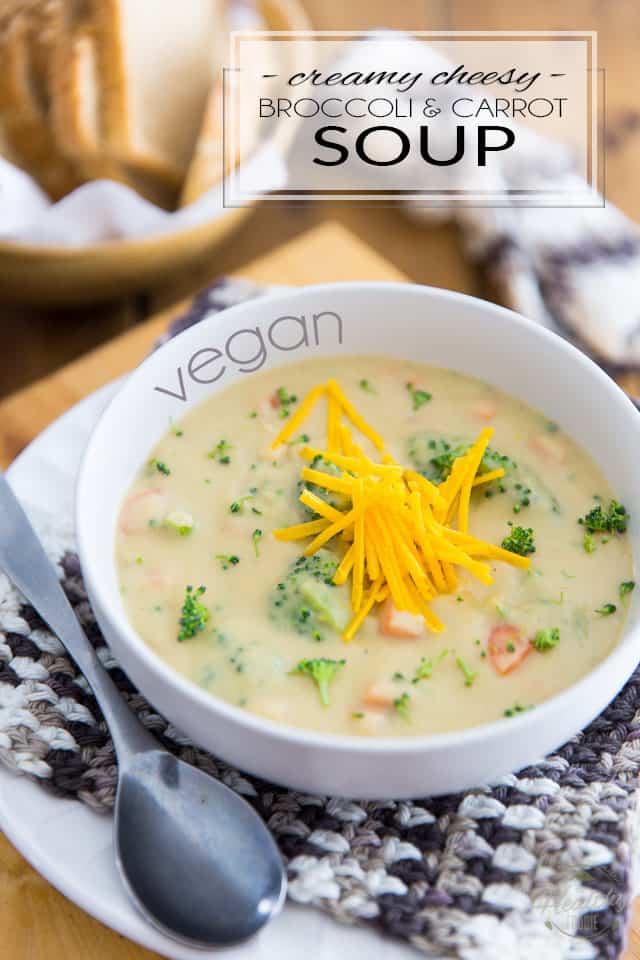 Soup that is thick, creamy, velvety, silky smooth doesn't have to be made with tons of milk, cream, butter and flour. In fact, it doesn't even require the use of animal product or even gluten, for that matter. Take this delicious, nutritious and soul-warming bowl of comfort for instance. It uses cauliflower and white beans as a base… Yeah, that's right. Cauliflower and white beans!
As for the cheesiness, it comes from the addition of nutritional yeast, which is a highly nutritious and very popular vegan food product that's got a cheesy, nutty flavor to it and that also happens to be a good source of complete protein, B vitamins and trace minerals, all stuff that's super excellent for your health.
And did I even mention the broccoli and carrots that complete this bowl of creamy goodness? Whoa! Nothing but good stuff! And talk about a great way to sneak veggies and legumes into anyone's diet!
Because seriously, who doesn't like a bowl of creamy, cheesy goodness? I'm telling you, even the kids will love it! 
The post Vegan Creamy Cheesy Broccoli and Carrot Soup appeared first on The Healthy Foodie.