Loaded with all kinds of super nutritious and wholesome ingredients, this sturdy Veggie Barley Salad is a veritable explosion of flavors and textures! Perfect for potlucks, picnics or no-fuss lunch at the office.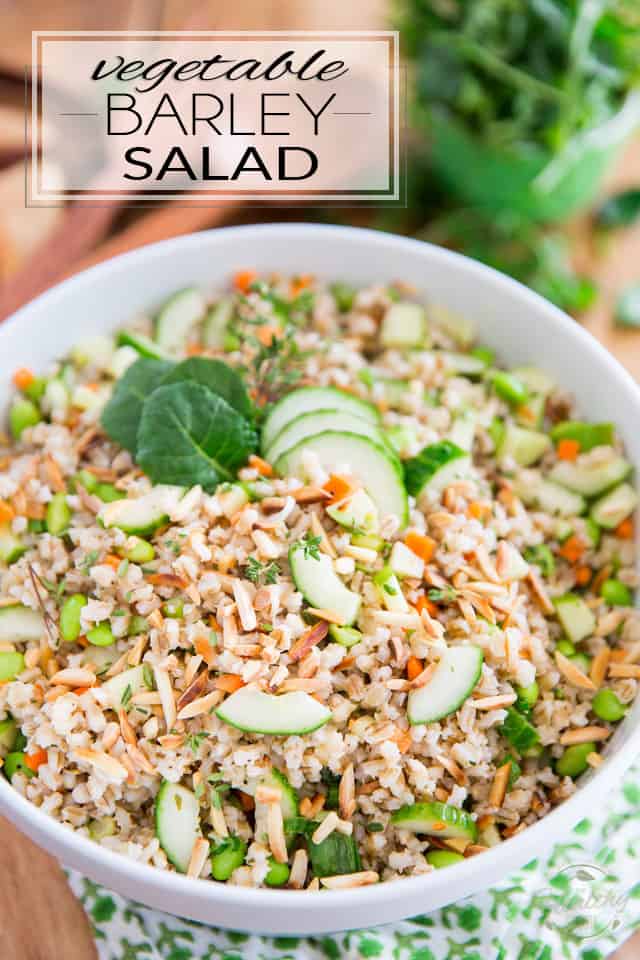 Man, I love barley! Really I don't understand why it is that it's so unpopular, this grain. It has the coolest texture, so much flavor, and is so crazy uncomplicated, too! 
Unlike rice, barley is super easy to cook… you just can't mess it up! And unlike rice, it's equally delicious hot or cold, making it a perfect contender for cold salads. Why people still use cold rice in salads is beyond me. I mean, the thing gets totally unpalatable after it's been in the fridge for a while. It becomes hard and dry and totally tasteless. But barley? Barley stays supple, crunchy and chewy and has the coolest of textures, even when cold. Not to mention the fact that it remains super tasty, too! 
Granted, it may take a little bit longer to cook than rice, but it's so much worth the extra time. Plus, you can totally make a bigger batch and reheat it later, or use the leftovers to make all kinds of dishes, like this very salad, for instance. Me, I even like to throw some in my morning cereal; it gives it tons of texture, and much nutritional benefits, too! 
Why not go ahead and cook a batch now, and then whip up this super delicious and nutritious salad? 
If you're not sold on it yet, give it a try. I'm sure that you too, will totally adopt it. 
The post Veggie Barley Salad appeared first on The Healthy Foodie.